Milkbar 50: mudflat
New works by the curators
March 12th through April 9th, 2022
A special shared show of 3 environmental works by the curators for our 50th salon and the our first in-person event in 2 years :  Merlin Coleman's Explorations of the Roblar Quarry/a moving picture in sound installation; Ian Winters TIDES/San Francisco Bay video installation, with music by Wayne Vitale; and, Mary Armentrout's sitting down in it, and listening.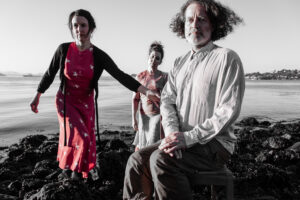 March 19th – 7pm only

This show will include all three artists, running time 1.5 hours and a reception with the artists follow.  Reserve via eventbrite here

April 9th 3p, 5:30p & 8pm

These shows will include all three works running time 1.5 hours and a reception with the artists follows. Reserve via eventbrite here

Gallery Showings Tues/Fri March 18 to April 8

Ian and Merlin's installations may viewed by appointment.
Tuesdays 4p-9p: March 15, 22, 29, April 5
Fridays 4p-9p: March 18, 25, April 1, 8
running time 1 hour for both works
Reserve a time for viewing / listening via eventbrite here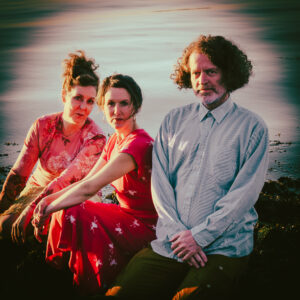 ---
More about the pieces:
TIDES/San Francisco Bay, a 3-channel video installation by Ian Winters
Video Installation and Photographs by Ian Winters
6 channel music installation by Wayne Vitale
Performance music by Brian Baumbusch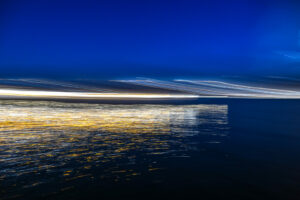 TIDES bridges the worlds of abstract aesthetic creation, data science, and photo-documentation with TIDES, as a way of bearing witness to the scale of future loss of our bay tide lands, and captures the liminal space – industrial, natural, social – between the low tides of today and the high tides to come.
The visual material for TIDES  was captured over a period of a year, from fixed cameras during 30+ days of walking around the San Francisco Bay, through neighborhoods and land specifically below five meters in elevation – lands that will likely be inundated in decades to come because of climate change. Rooted in the tradition of artist's walks, expanded cinema and pilgrimage, TIDES documents urban, industrial and natural communities along the 300+ miles of the Bay's shoreline, opening up a space for examination and reflection on the rapidly changing terrain of the Bay. 
The music score for the installation was created by El Cerrito composer Wayne Vitale, using the tidal flows of the Bay as an underlying rhythm. Informing both visuals and music are compositional patterns drawn from the range of scientific data about the Bay and its intersection with human-natural systems – in particular, of course, the rhythms of the tides themselves.  
Cartographic and oceanographic  data was sourced from public agencies such as the National Oceanic and Atmospheric Administration (NOAA) and the Bay Area Conservation and Development Commission (BCDC) through its Adapting to Rising Tides program.s. A component of TIDES data comes from citizen science observations of a variety of natural phenomena and species data gathered through a collaboration with Oakland-based WHOLLY H20, BioBlitz events and publicly shared data through the Cal Academy of Science's iNaturalist app.. 
TIDES was originally installed at San Francisco's Minnesota Street Project SF ArtsED Gallery in March of 2020 but viewing was canceled due to the COVID lockdown. More information about the project is at https://tides.video
Duration: Approximately 25 minutes 
#tides #datascience #videoinstallation #artistwalk #intertidal #expandedcinema #pilgrimage #soundart
---

Explorations of the Roblar Quarry/a moving picture in sound— a quadraphonic sound sculpture from Merlin Coleman
Sound Engineer: Eric Oberthaler 
Sonoma County California based composer, writer, recording artist, performer and arts organizer Merlin Coleman premieres her newest composition in the form of a 25 minute long quadraphonic sound installation. For some, the title's 'moving picture in sound' aspect may conjure the term "Kopfkino" which is one of those singular German expressions that once you hear it, tends to stay with you. It literally translates to "head cinema" where upon seeing or hearing something, a movie begins playing in your mind.

In this work Merlin gives voice to one Sonoma County community's fight against the proposed Roblar Rock Quarry by illuminating concerns regarding the quarry through the recorded voices of activists, artists, ecologists and government officials directly involved in the issue.

Merlin spent the past two years conducting and recording interviews about the proposed quarry, before weaving them together with cello and illustrative environmental sounds into an intimate audio experience. Materiel is cut, spliced and treated in order to capture the musicality of the spoken voice as well as augment inflections in order to reveal an emotional tell. Looping, stacking and repeating layers are integrated with her own singing, speaking and whispered voice to create new rhythms, chords and harmonies. 
Explorations also incorporates an original poem to convey the multiple environmental harms caused by these extractive practices. Voice, cello, along with field recordings of wind, birds and trucks have all been expertly mixed in collaboration with Eric Oberthaler, then sculpted and separated into a quadraphonic sound system.
Duration: Approximately 25 minutes 
#Soundpoetry #Soundart #Vocalexperimentation #Wordjazz #Soundtext #Melodicsong #Soundscape #kopfkino #quadraphonic
---

sitting down in it, and listening … from Mary Armentrout
In sitting down in it, and listening…experimental choreographer, performance artist, videographer, and the director of the Mary Armentrout Dance Theater, choreographer Mary Armentrout returns to a number of issues and strategies that have concerned her recently, including, how is live performance itself an opportunity for deep listening? And how can live performance successfully grapple with big picture issues like climate change or social equity? sitting down in it, and listening… is both a live performance response to Winters' and Coleman's works, and a performative exploration of how we as humans need to remember to listen in order to respond.
This site specific dance theater piece will take place amid the wild pampas grass and volunteer plum trees situated in the side yard of the Milkbar space. Queries regarding our societal forgetfulness, amnesia, inability to cope, resistance, suspension of belief around climate change and social justice will alternate between a present day persona and Victorian one who favors a ghostly long black dress. All to probe how history, memory, and acknowledgement can perhaps help us find a path forward.
Duration: Approximately 25 minutes
#listen #deeplistening #socialjustice #socialequity #performative #exploration #bigpictureissues #resistance